NAMAPAHH First People's Radio & Productions " On the Red Road Report": 10-25-08
NAMAPAHH visits Seattle Art Museum 10-25-08 : S'abadeb
by Robin Carneen
Vi Hilbert honored and acknowledged at "S'abadeb — The Gifts: Pacific Coast Salish Art and Artists
Vi Hilbert is an enrolled Upper Skagit tribal member and a esteemed Elder, she is gracefully 90 years old. This past Saturday, she was honored through a slide show , as part of opening ceremonies at the Seattle Art Museum of the new Pacific Coast Salish Exhibit-"S'abadeb — The Gifts: Pacific Coast Salish Art and Artists. The pictures were projected on a wall over Vi's head as she sat and listened to the narrator of the slideshow depicting her family lineage and sharing history of how she is connected to Skagit county. She was also acknowledged for her incredible accomplishment of helping to bring back the Lushootseed Language, which she eventually taught to many and is being taught to this day.
The Pacific Coast Salish Art show ( "S'abadeb — The Gifts: Pacific Coast Salish Art and Artists)"
(S'abadeb pronounced Sah-BAH-deb) has an array of Puget Sound carvings, mountain goat hair wool weavings, sculptures, baskets and also features Swinomish- Tulalip photographer Matika Wilbur's black and white photos, which share a special exhibit hall with Edward S. Curtis. Curtis was famous for his own sepia toned photos of Native American's all over the United States. However, according to a recent article in the Seattle Times http://seattletimes.nwsource.com/html/localnews/2008283855_sam19.html By Sheila Farr-Seattle Times art critic- Curtis, for the most part, staged those Native Americans photographed in traditional regalia, props and/ or settings. Matika says in the same article that many photos are staged, but when I look at her photos of some of our Elders, I was stunned at the realness of them, as far as their persona which she has captured with her lens and mind. She is able to actually show you who these Elders are (or were-one Elder, also a Veteran, since he was photographed has crossed on). As my Mom Connie Allen and I were commenting on her photos, Matika walked into the exhibit hall and her timing was uncanny. I was secretly hoping at just about this moment, that we would run into her there. We were so glad when she materialized, we were able to compliment her in person and thank her for the important work she is doing for our people. My mother, Connie Allen was especially drawn to the almost mystical- spiritual ambiance of the photo of Elder Joe McCoy who is of the shaker church faith.There is a soft light surrounding him that had to have come in from the "other side". I agreed with Mom, It is a breath-taking photo and there is no doubt that Matika has a guiding hand in the work she is doing.
There are also some items on loan to S.A.M for display at this exhibit. For example: "A small carved wood potlatch figure more than 200 years old welcomes visitors to the galleries, its hands held up in greeting. The piece serves as a powerful icon of the exhibition. Collected in 1792 by Capt. George Vancouver, the figure is now visiting its former homeland from the faraway British Museum."http://seattletimes.nwsource.com/html/thearts/2008303276_visart24.html Sheila Farr Seattle Times art critic). Mom and I quietly and respectfully walked by an installment called " "Soul Recovery Ceremony" by the late Gerald Bruce (subiyay) Miller-another Elder(Skokomish) who I met a few times at the NNABA(Northwest Native American Basketweaver's Assoc.) gatherings when he was alive. Seeing his name again, saddly reminded me of the fact we have lost so many of our Elders and much of our culture and all that goes with it, has crossed over with them. This show-S'abadeb, made me want to rush home to immerse myself in my own Native American artwork- cedar, beadwork, and many other mediums- clues and the keys to who I am and where I come from. Mom agreed- she said, "You weave and I will bead."
It is worth the drive to Seattle, WA to see this rare exhibit of Coast Salish mixed media and loaned collections displayed in an incorporated way.We proudly share these pictures of our time spent at the Welcoming ceremony and we are also glad to share some of our insights and critique of this exhibit. We want to encourage you to bring friends and family and visit this exhibit, more than once even. Mom and I will come back ourselves, but with a bigger van full next time. If local schools could even make this a field trip between now and before the exhibit leaves in mid January, it would help bring it "home" as far as understanding the Pacific Coast Salish culture, language, and many of our ways, that we are trying to find our way back to. There is also a companion book available that illustrates and shares background about the art shared at S'abadeb.
More info:(excerpt from Seattle Times):
S'abadeb Curator: Barbara Brotherton
Now showing
"S'abadeb — The Gifts: Pacific Coast Salish Art and Artists"
Opens today(Oct 24th) and continues 10 a.m.-5 p.m. Tuesdays-Sundays, extended hours until 9 p.m. Thursdays and Fridays, through Jan. 11; Seattle Art Museum, 1300 First Ave.; $7-$13, free to museum members (206-654-3100 or www.seattleartmuseum.org).
Pic 1: Vi Hilbert (taqsheblu was )honored at the opening of the new Pacific Coast Salish Art Exhibit-S'abadeb. Pictured here with some friends & family.... Linda Day(Swinomish)(behind Vi); Dolores MeGuire; Dario MeGuire(who played flute for Vi & is Swinomish); Connie Allen(Swinomish); Dametries MeGuire (in wheel chair, in front of Connie); and Eric Day.
10-25-08 by Robin Carneen
Additional Pictures by Robin Carneen:
Pic 2: Eric & Linda Day & Connie Allen sing a song to Vi Hilbert and the audience at "S'abadeb" Welcoming Ceremonies at S.A.M
10-25-08- by Robin Carneen
Pic 3: Connie Allen(Swinomish) and Cecile Hansen-Chairwoman for her tribe (Duwamish) at the Welcoming Ceremonies at S.A.M 10-25-08 by Robin Carneen
Pic 4: Clara Rose and Hi Finkbonner dance in honor of Vi Hilbert at the "S'abadeb" Welcoming Ceremonies at S.A.M
10-25-08 by Robin Carneen
Pic 5: Vi Hilbert being honored at "S'abadeb" Welcoming Ceremonies at S.A.M 10-25-08 by Robin Carneen
Pic 6: Hi Finkbonner & Clara Rose at "S'abadeb" Welcoming Ceremonies at S.A.M 10-25-08 by Connie Allen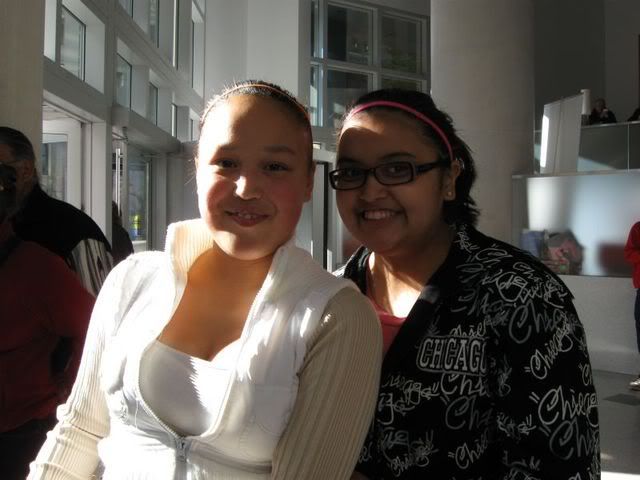 related links: NNABA : http://www.nnaba.org/
Matika Wilbur: http://www.matikawilbur.com/main.php
Please tune into our new internet radio program, times & days TBA...if you want to get on email list for blogtalkradio annoucements, please send us an email:
NAMAPAHH First People's Radio is hosted and produced by Robin Carneen, co-hosted by Connie Allen, both enrolled members of the Swinomish Indian Tribal Community, in La Conner, WA. Native American news, views & music show on:
www.blogtalkradio.com/NAMAPAHH_Radio
NAMAPAHH stands for: Native American Multi-media; Activism; Performance/poetry; Art;Health/Humor/History.
NAMAPAHH's MYSPACE!
http://www.myspace.com/namapahh
http://www.myspace.com/nativeradio4all
email: robin.carneen@gmail.com
Blog:http://namapahhmultimedia.blogspot.com/
Got a new music release? Press Kit?
Robin Carneen
c/o NAMAPAHH First People's Radio
P.O Box 1551
La Conner, WA 98257
"Chaos is the complexity of casuality or the relationship between events. This means that any seemingly insignificant event in the universe has the potential to trigger a chain reaction that will change the whole system. A well known saying in connection with the issue is "A butterfly flapping it's wings in one part of the world can cause a hurricane on the otherside of the earth".
( http://en.wikipedia.org/wiki/Choas )
"Keep That Native Radio Going On"
Robin & Connie
And here is a slideshow too: featuring Swinomish_Puyallup_Duwamish(Blue Heron) Canoe Families
http://s49.photobucket.com/albums/f294/Swinomish1/Connie%20Allen%20pictures2008/?albumview=slideshow
>>>>>>>>>>>>>>>>>>>>>>>>>>>>>>>>>>>>>>>>>>>>>>>>>>>>>>>>>>>>>>>>>>>>>>>>>>>>>>>>>>>>>>>>>>>>>>>>>>>>>>>>>>>>>>>>>>>>>>>>>>>