On Air- Mark Deschinny, Sharmagne Leland.St. John & Paul Nye
For IMMEDIATE RELEASE
7-31-08
>-------------oxoxoxoxoxoxoxoxoxoxoxoxoxoxx------------>
NAMAPAHH ~ First People's Radio
Host/Producer: Robin Carneen
Co-host: Connie Allen
KSVR 91.7;
Mt. Vernon WA
Thursday ~ July 31, 2008
7pm to 8:30pm (PST)
streaming LIVE: www.ksvr.org
Honored Guests~Mark Deschinny, Sharmagne Leland.St. John and Paul Nyenhuis
ah see um and Warm summer greetings!
Before we let you totally know what is going on for Thursday night's show…we wanted to just say "hello" Mom & me…she has really dived into the radio world with me- now my new co-host & she is doing great! She even has her own little portable recorder & snagged my worn out digital camera & she is holding her own! It's worth it to just hear her voice alongside me- we are representing two generations on air!
As we feel the cool air filtering in & get rain every other day as of this week, it reminds us here in the NW that Fall is just around the corner. Too soon we will be thinking about what we will do when the rainy days are back & we are all snuggled down in our respective homes. I do a lot of reading online, looking for topics and people of interest for our listeners.
We have been very busy launching the National version of NAMAPAHH- we have programs 1-9 done & posted to two places online that other radio stations can listen to them & possibly play them on their stations. More to come, more to come!
The National shows range from environmental stories, to interviews with awesome singer- songwriters, to specific focus on politically charged issues having to do with our sovereignty and threats to our Sacred Sites. There is even an update from Michael Kuzma, ESQ. about his client-political prisoner Leonard Peltier and a F.O.IA Hearing addressing a legal request for the F.B.I to release important documents in regards to Peltier's case.
Future shows, both locally and Nationally will be jammed packed with stories about our people (past & present)- including music, language preservation and use, outreach for those amongst us that may be impoverished and for those who may feel forgotten about or need some exposure all across our Mother Earth! 'Cause as some of you know…we are streaming at www.ksvr.org
Anyone who has topics, or would like to suggest guests for future shows on NAMAPAHH, please email us or leave a voicemail at: (360) 848-9931…I don't check it daily, but will from time to time- email is best though!
And guess what? We got our first wonderful underwriter for KSVR! Yup- Muckleshoot Amphitheatre is running some underwriting spots about an upcoming event. You can hear more about that NAMA Hall of Fame Showcase event by tuning in on Aug 7th for 90 mins- guests TBA!
So if you want to become a member of KSVR or do some underwriting, we would love you to be part of our growing circle of family & friends! Ask us how!  Or contact Teresa Pantoja calling: (360) 416-7983
Tell her "I want to underwrite NAMAPAHH First People's Radio and/or KSVR/or become a member of the KSVR family"
So- I just wanted to take the time to thank you all for being on my PR lists & sending me such valuable information & GREAT music! I wish we could get to it all! But if we can't get it on the air, we are more than likely posting it around! All of you do so much- we are not idle people! And so much talent and heart out there!
There is definitely synergy to our show and many of us in Indian Country, believe there is two degrees vs. six degrees of seperation.Which leads me to letting you know who our guests will be on this Thursday night:
NAMAPAHH ~ First People's Radio
Host/Producer: Robin Carneen
Co-host: Connie Allen
KSVR 91.7
Mt. Vernon WA
Thursday ~ July 31, 2008
7pm to 8:30pm (PST)
streaming LIVE: www.ksvr.org
Mark Deschinny, Sharmagne Leland.St. John and Paul Nyenhuis
I can't remember how I found Navajo dye expert and traditional loom builder Mark Deschinny, but we have discovered each other in the cyber world and he has perked my interest in weaving again. I have never done loom weaving, but I think with my background in bead & basket weaving & with Mom's help- we will figure it out…for sure by this winter, if we can wait this long.
He will be our first guest on NAMAPAHH, talking about his interest in his own Dine culture & why dyeing and loom making is so important to him & how it benefits his own people and others like Mom & me that appreciate him as a traditional & cultural resource.
7-7:30PM PST:


Call in Guest from Window Rock, AZ: Navajo dye expert: Mark Deschinny
(See excerpt of article below)

" Keeping the tradition alive"

By LARRY HENDRICKS
Assistant City Editor
Monday, July 14, 2008

"Navajo dye expert Mark Deschinny -- like his grandmother and mother before him -- uses local plants to make natural dyes for Navajo weaving.

Blue penstemon. Sagebrush. Holly berries. Cliff rose.

The plants are found throughout the Southwest for the task, said Mark Deschinny.

And the task is a natural one, he added. Here, one will not find acids, lye, bleach, onion skins, coffee or Kool-Aid.

Following in the tradition of four generations of his family, Deschinny is an expert at using natural materials to make dyes that color wool in traditional Navajo weaving."

To read more about Mark check out this AZDAILYSUN link:
http://www.azdailysun.com/articles/2008/07/14/news/20080714_front_177388.prt


A little more about Mark:

"Growing up in Teelch'init'i'i, Oak Springs, AZ, on the Navajo Indian Reservation, Mark H. Deschinny is Bit'ahnii and born for 'Ashihii. His maternal grandfather is Haashk'aanhadzohi. His paternal grandfather is Bit'ahnii. His ancestorial land is located at Dziihidzoh, which is located between T'iis 'Ii'ahi, Pine Springs, and Oak Springs, AZ. His mother is Isabel Myers-Deschinny. His late father was Daniel Deschinny, Sr.. His late maternal grandmother is Mabel Burnside-Myers. He has three siblings, Daniel Jr., Ronald Sr. and Janet.

Coming from four generations of traditional Dine weavers, Mr. Deschinny is continuing and promoting the life way of Dine weaving and dyeing through his weaving business. Through innovative equipment designs, education and research, Deschinny is vying to better and diversify the Dine weaving markets and increase the amount of professional Dine weavers within his lifetime."
His bio can be found at:

http://www.geocities.com/deschinny/BIO.html

Here is our first guest's contact info- he's got a great website too! (It's where I choose my loom from to buy from Mark…)

Mark H. Deschinny
PO Box 4677
Window Rock, AZ 86515
Studio: (928)871-5587
Wireless: (505)488-8944
deschinny@yahoo.com
http://www.geocities.com/deschinny/Looms_and_Supplies.html
>>>>>>>>>>>>>>>>>>>>>>>>>>>>>>>>>>>>>>>>>>>>>>>>>>>>>>>>>>
7:30-8:15 (ish) PM PST: Guests 2 & 3:

Are you ready for some amazing & powerful & flute filled poetic moments on NAMAPAHH-live in studio? After finding out too late that our next guests were performing together down South of us- I contact this wonderful poet and asked her to be on NAMAPAHH sometime- taking time out of her busy schedule & willing to drive up to our station, we are very blessed to have Sharmagne Leland-St. John and Paul Nyenhuis on the NAMAPAHH airwaves Thursday night!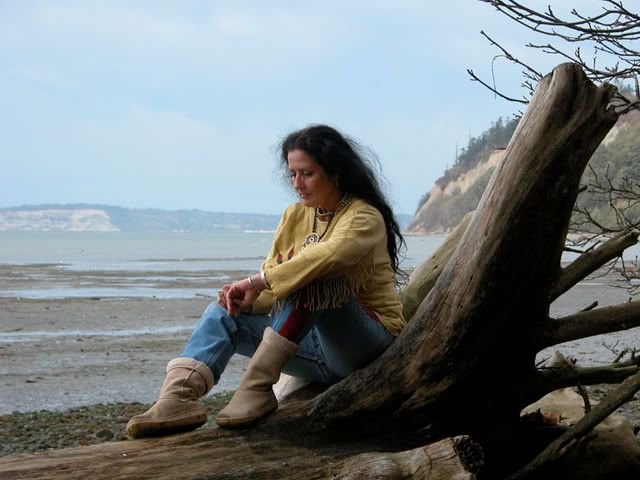 Sharmagne Leland-St. John will fulfill the "P"(for poetry) in NAMAPAHH :
"2007 Pushcart Prize nominee, is a Native American poet, concert performer, lyricist, artist, and film maker. She is the Editor-in-Chief of the poetry e-zine Quill and Parchment.com.

Sharmagne spends time between her home in the Hollywood Hills, in Southern California and her fishing lodge on the Stillaguamish River in the Pacific Northwest.

She tours the United States, Canada, and England, as a performance poet, either solo or with her band of poets "Poetry in Motion."

She has published 3 books of poetry Unsung Songs (2003), Silver Tears and Time (2005), Contingencies (2008) and co-authored a book on film production design. Designing Movies: Portrait of a Hollywood Artist (Greenwood/Praeger 2006)

She will also introduce us to her friend and flute player Paul Nyenhuis –who will definitely be representing the "M"(music) in NAMAPAHH throughout the duration of the show :



Paul Nyenhuis

"Paul is the creator of beautiful native American flutes. Paul uses his creations to play his compositions of beautiful, soulful, spiritual music; musical collaborations between Paul and Nature."

Source: http://www.stanwoodcamanoarts.com/abtb/abtb06-music.htm#Paul%20Nyenhuis

Paul will also be in a musical lineup this weekend, in our backyard:

Anacortes Arts Festival

More than 30 shows lined up for Arts Festival weekend….

"A long weekend of nearly constant music in almost every imaginable style — plus a bonus Wednesday chamber music concert at the port warehouse — are in store with the Anacortes Arts Festival this week."

2 p.m. — Paul Nyenhuis, Native American style flute, KPLU Stage

http://www.goskagit.com/home/article/more_than_30_shows_lined_up_for_arts_festival_weekend/

Other interesting/related links to my guests:

http://archives.quillandparchment.com/PR/Poetrytour.html
http://unsungsongs.blogspot.com/


>>>>>>>>>>>>>>>>>>>>>>>>>>>>>>>>>>>>>>>>>>>>>>>>>>>>>>>>>>>>>>>>>>>>>>>>>>>>>>>>>>
~We will have some announcements for
Red Road Community Calendar-
which will go until 8:30PM PST~
>>>>>>>>>>>>>>>>>>>>>>>>>>>>>>>>>>>>>>>>>>>>>>>>>>>>>>>>>>>>>>>>>>>>>>>>>>>>>>>>>> " KEEP THAT NATIVE RADIO GOING ON!"

NAMAPAHH First People's Radio
Host/Producer Robin Carneen
Thurs 7-8:30pm Sun 4-5pm PST
Ways to hear our show online:
www.ksvr.org

Or shorter segments via MYSPACE!
http://www.myspace.com/namapahh
Main myspace page:
http://www.myspace.com/nativeradio4all

email: robin.carneen@gmail.com

Blog: http://namapahhmultimedia.blogspot.com/

Groupsite:
http://groups.yahoo.com/group/tetawin38/

Got a new music release? Want to become a member???

Here's the Radio station addy:
c/o Robin Carneen-
NAMAPAHH First People's Radio
Skagit Valley College-KSVR 91.7 FM
2405 East College Way
Mount Vernon, WA 98273

>-------------oxoxoxoxoxoxoxoxoxoxoxoxoxoxx------------>