NATL NAMAPAHH program 4:(Rebroadcast):Global Warming4-5PMPST
NAMAPAHH First People's Radio: Global Warming- Native Americans in the front line- early warning from the far North!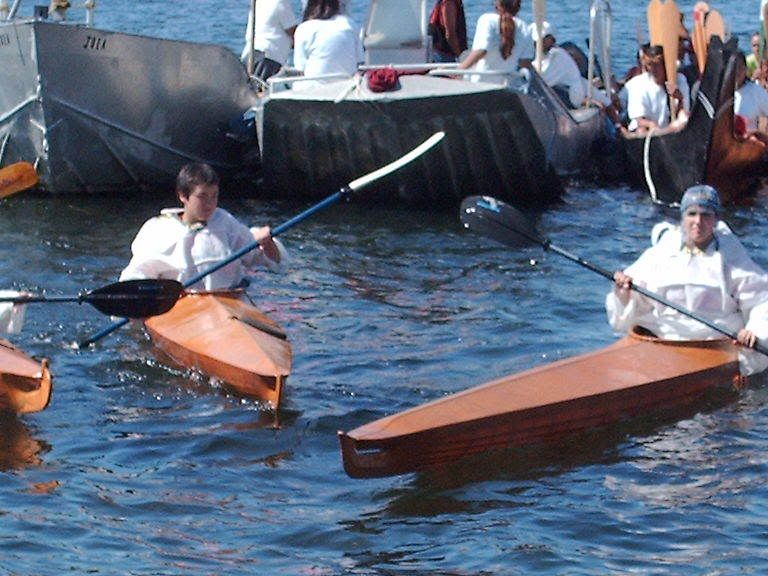 NAMAPAHH First People's Radio is hosted and produced by Robin Carneen, co-hosted by Connie Allen, both enrolled members of the Swinomish Indian Tribal Community, in La Conner, WA. Broadcasting Native American news, views & music show on KSVR 91.7 FM for close to four years, twice a week & now available Nationally (interested stations contact KSVR).NAMAPAHH stands for: Native American Multi-media; Activism; Performance/poetry; Art;Health/Humor/History.
Monday 8-10pm
(REMINDER- Gabriel Ayala will be our first Monday night guest:
)
Aug 31, 2008: Sun 4-5pm PST
streaming online:
www. ksvr. org
Topic: Global Warming- Native Americans in the front-line- early warning from the far North!
Host: Robin Carneen
Program 4: Guests: Larry Miecurloff- Aleut Scientist/Alaskan Native Science Commission; Aleuts Canoe Family&(non-native) skipper Marcus Daniels; Eskimo Elder known as U.N.C.L. E (Angaangaq, The Man Who Looks Like His Uncle)
DESCRIPTION: The Elders and Native American scientists & environmentalists are saying that this is a time to re-connect. The interviews and voices you will hear on this special program, are from the front lines and trenches of places that are feeling the heavy impact of Climate Change/ Global Warming.
Intro Music: Edge of America/Annie Humphrey/So Comes the Rain/Edge of America
HOST NARRATIVE:(WITH ALEUT SONG IN BACKGROUND)
"Native singer-songwriter Annie Humphrey sings a bittersweet sonet that is a an invitation to wake up and pay attention to the affects and outfall of Global Warming- hurricanes, snowfall during off season, like we saw this Spring, even here in the NW. Life has been lost, can we afford the Climate Change? Can we prevent some of these natural disasters, by simply being better caretakers & environmentalists? With more information and a combined effort, I would say "Yes".
Past Vice president of the United State's Al Gore film " Inconvenient Truth " has brought world wide attention to the issue of Global Warming. It echos growing concerns, like Annie Humphrey's and many other people's across the Mother Earth.
We don't often have a chance to hear the Native American, Alaskan Native voices, we hope to provide that platform & Indigenous education on NAMAPAHH First People's Radio. The interviews and voices you will hear on this special program, are on the front lines and are being heavily impacted by Global Warming. There communities, their food sources, and even their culture are being impacted in the far reaches & Villages of the North, in an alarming way!
In 2005, a small contingent of Aleut Natives visited the North west as part of a Annual Tribal Canoe Journey, flying into Seattle with their bidarkas & traveling by water with nearly 100 canoes,landing after weeks on the shores of Lower Elwha Tribes shores, near Port Angeles. They also returned to the shores, for their second journey, coming through the Locks of Seattle in 2006. You are hearing them singing a traditional song in the background.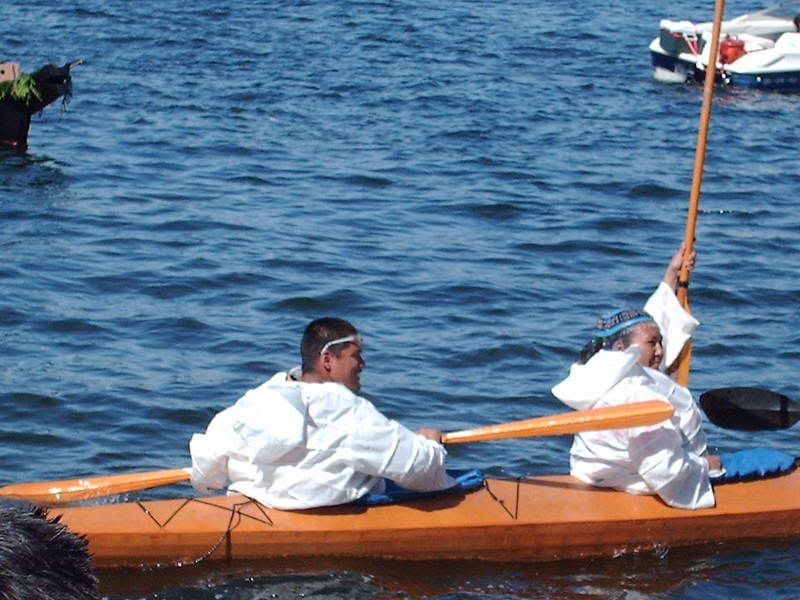 During this program we will share some of their emotional statements and songs from their Saint Paul & Saint George Islands-in Alaska during Lower Elwah's protocol time. Richard Zacharof (pronounced ZA HAR OFF), tribal President of the Aleut community of St Paul Island started off the story of how they came to be on journey and why they came along on the annual healing journey.
What they share, is hope.... that despite losing, literally acres and acres of their Island, due to rising temperatures and increased & expedited melting of the polar ice caps.
But it will take more than these healing journeys to remedy this environmental disaster that we are all facing and feeling the impacts of.
I believe what happens to one, happens to all. Stay tuned because we will first hear from Aleut Scientist Larry Miecurloff (meh-cool-ee-off), also from Saint Paul Island, who has first hand scientific knowledge and concerns about the cultural & social repercussions of Global Warming, that is happening now. As small as the world is, he actually helped fund the building of the bidarkas that a year before brought some his village members & Mark Daniels to the shores of Lower Elwha. Mark is a non- native who had the vision & desire to help the community get back to a tradition that would help unify the community, that is now suffering other social symptomatic problems that we should all be paying close attention to.
Later on NAMAPAHH First People's Radio we will also we will share a related interview from an Eskimo messenger, known as U.N.C.L.E- who is Melting the Ice in the heart of man as he shares a song his mother told to share with us all. "
INTERVIEW ONE:
Larry Miecurloff (meh-cool-ee-off)
an Aleut Scientist...born & raised half his life on Saint Paul-Pribilof Islands ...
*note: interview conducted at the NNG conference10-11-05 /the Elder's gathering was to take place the following year...Miecurloff is an Alaskan Native Science commission
www. nativeknowledge. org
Music break: Do what we must/Michael Bucher/SEVEN...
Interviews continue w/ ARCHIVE: ALEUTS from St Paul-Pribilof Islands - sharing protocol 2005 Lower Elwha...
Second interview: (Angaangaq, The Man Who Looks Like His Uncle)
UNCLE- Melting the heart in the ice of man...
*note: interview conducted at the Elders & Youth Gathering in Tulalip, WA 7-21-05
http://www. icewisdom. com/
( picture only)
http://www. cambrianshield. com/index. php?option=com_content&task=view&id=518&Itemid=49
Outro Music : Floyd Redcrow Westerman: They Didn't Listen.....
Outro HOST NARRATION:
"Like Native American Musician Annie Humphrey, Cherokee Musician Michael Bucher, through his song "Do what we must" introduces concerns about repercussions of Global Warming and how our actions as humans or lack of actions is contributing to the polar ice caps melting at an high rate of speed. You also heard interviews and sharing by Alaskan Natives that are reaching out to us, all of us, warning us of things to come, as far as Mother Nature is concerned. As we mourn the loss of our Native American Elder Floyd Redcrow Westerman, we heed his warning about "Listening". We are glad you took the time to do just that- now do what we all need to do what we must!"
Related links:
Larry Miecurloff
http://www. nativescience. org/
UNCLE:
http://www. icewisdom. com/
Aleuts:
http://www. kuhbradio. org/
http://www. hud. gov/local/shared/working/r10/nwonap/paddle. cfm?state=wa
Featuring Commentary from: (Narrator- Robin Carneen)
Music from:
Annie Humprey:
http://www. amazon. com/
Edge-America-Annie-Humphrey/dp/B000253DZW/
ref=sr_1_2?ie=UTF8&s=music&qid=1209411398&sr=1-2
Michael Bucher Music:
http://www. michaelbucher. com/
Floyd Westerman Music:
http://www. amazon. com/
Custer-Died-Your-Sins-Mother/dp/B00000AU54
--
NAMAPAHH's MYSPACE!
http://www. myspace. com/namapahh
http://www. myspace. com/nativeradio4all
email: robin.carneen@gmail.com
Blog:
http://namapahhmultimedia. blogspot. com/
Got a new music release? Press Kit?
Robin Carneen
c/o NAMAPAHH First People's Radio
P. O Box 1551
La Conner, WA 98257
or
c/o Robin Carneen-
NAMAPAHH First People's Radio
Skagit Valley College-KSVR 91. 7 FM
2405 East College Way
Mount Vernon, WA 98273
GM: Rip Robbins(360) 416-7711
>>>>>>>>>>>>>>>>>>>>>>>>>>>>>>>>>>>>>>>>>>>>>>>>>>>>>>>
=+=+= INTERNATIONAL PELTIER FORUM =+=+=
August 31st 2008:
11895 days of WRONGFUL IMPRISONMENT !!!
=+=+=+=+=+=
ONLINE PETITION FOR EXECUTIVE CLEMENCY
http://users. skynet. be/kola/lppet. htm
=+=+=+=+=+=
September 12th, 2008
[]
Happy Birthday Leonard!
Once again, we have created an online birthday card for Leonard Peltier. This online card will be printed out on September 2nd, 2008 and will be sent to Leonard.
To add your wishes to this birthday card, please send a text message, or a photograph, or a nice graphic to:
peltier-bd2008@skynet.be
Yes indeed, this year you can send in pictures!!!
Suggestions: a photograph of yourself wearing a Free Peltier t-shirt, carrying a banner, holding a photograph of Leonard, holding a birthday cake, participating at a (past) Peltier event...
But sending in a photograph or picture is not necessary. A plain text message is okay. And if you can't find the words... a simple "Happy Birthday" with your name is just fine too! :-)
When sending in your birthday wish, please do not forget to add your name, your city and state or country! Leonard likes to see that his supporters and friends live all across the globe.
Needless to say: we will not post anonymous messages.
Please note that your messages and pictures will not be posted automatically. We add them "manually" after filtering out the nasty or crazy messages. Sadly enough, there are always idiots out there who send those irritating messages.
Once your B.D. wish is posted, you will receive a confirming message. New additions will appear at the bottom of the list.
http://users. skynet. be/kola/lp-bd2008. htm
In the past years, hundreds of supporters worldwide signed the online birthday card. Let's do it again, folks and make this a GIANT surprise card for Leonard.
Remember: the deadline is September 2nd !!!
Okay, we're ready for your B.D. messages...
Warm regards to all,
Els & Vivienne
=+=+=+=+=+=
IPF WEBSITE:
http://users. skynet. be/kola/index. htm
and
www. myspace. com/leonardpeltierisinnocent
IPF e-mail:
ipforum@skynet.be
Also, please visit the website of the
Leonard Peltier Defense Offense Committee (LPDOC):
www. whoisleonardpeltier. info
LPDOC e-mail:
contact@whoisleonardpeltier.info
=+=+= LEONARD PELTIER IS INNOCENT ! =+=+=
--^^---------------------------------------------------------------
This email was sent to: robin.carneen@gmail.com